Wild Haven Resort Bandhavgarh
Wild Haven Resort is located about a kilometer away from the main entrance gate of Bandhavgarh tiger reserve. It has convenient access from the road on which the township of Tala is situated. The residential core of the resort consists of 14 twin-bedded residential units - all set in our large campsite sprawling over 8 acres of prime woodland covered with natural grasses, and dotted with giant mahua, sal, bamboo and dhak trees.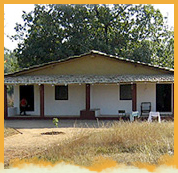 Accommodaiton:
The accommodation in Wild Haven Resort consists of 6 comfortable cottages, 5 safari tents and a 3-room villa, all set out widely in our large campsite. Provision of clean comfort, and practicality of design & layout is the prime focus at Wild Haven.
Each cottage consists of a large 16x16 sq ft bedroom, with a covered verandah in front, providing a sit-out area. The structure has been designed and executed by tribal artisans, using local building material for walls and floors. Rough-hewn logs constitute the roof frames which are then covered by baked mud tiles on the outside, but well fortified inside by girders & false roofing to keep out the crevices. Attached bathrooms are tiled, containing all modern facilities.
The cottages are designed to give you the pleasure of ethnicity, combined with comfort. Large windows and proper natural lighting is an integral part of the design so that guests always feel an airy and well-ventilated aura.
The safari tents are pitched on raised platforms, each having a 12x14 sq ft bedroom, a large tiled bathroom with dresser, and a canopy-covered sit-out area in front.
Pitched strategically near the shade of giant mahua trees, with bamboo clumps and wild grass surroundings, the tents will give you the real pleasure of 'camping in the forest' but in perfect safety within our fenced campsite.
Each unit is cordoned off and amply screened by lush plants to provide for its own private open area, where you can take in the sun & air in absolute privacy and solitude.
Large parties or family groups will find our 3-room villa an ideal place for staying together in close comfort. Its large, high verandahs with sloping tiled roof, will add space and dimension to the rooms, and provide a homely feeling during their stay here.
Facilities at the Wild Haven Resort:
* A large Dining Hall will serve breakfast, lunch & dinner to guests.
* Evening tea / drinks can be had in the privacy and comfort of the verandahs or sit out areas provided to each unit.
* Chilly winter evenings can be spent around cozy campfire areas.
* A small open-air, mud-brick amphitheatre will be used to show wildlife films, tribal dances etc.
* A large number of 4x4 safari vehicles are attached to the resort, so that guests don't have to miss out on even a single safari into Bandhavgarh tiger reserve.
* Spa and massage facilities.
* Pick-ups and transfers from and to railway stations and airports.
Get a Call Back from us
Please provide us your contact number and convenient time, our expert will call back to you.