The Jewel of the Jungle,Panna
One of the few places in the world where you can experience the wilderness in style! The essence of The Jewel of the Jungle's charm lies in its discreet blend of classic styling with the very best of modern amenities. The Jewel of the Jungle is a world apart - a world of contrasts. Visitors are offered a diverse range of activities and attractions in a myriad of dramatic locations.
Accommodation :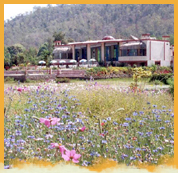 Comfort & luxury take top priority at The Jewel of the Jungle. All 28 bedrooms (10 cottages & 18 rustic huts) are individually air conditioned/ air cooled and feature rich silk upholstery and fine fittings. Security is assured with integral room safes. In room coffee/ tea making facilities & pool facing rooms are, uniquely themed and thus decorated.
Cabochon :
An informal and spacious restaurant looking out onto the garden and pool, is open daily for breakfast, lunch, high tea and dinner serving fusion world cuisine as well as favorite classics.
The Den :
A club like library lounge; it is the ideal meeting place whilst enjoying a refreshingly long drinks or indulge in a traditional English tea in surroundings reminiscent of a more elegant age, browsing through our well stocked shelves of books.
Other hotel facilities :
It includes a herbal therapist/ masseuse ,a full size swimming- pool, meeting/ conferencing & banqueting facilities, babysitting/ child minding facilities, recreational games room that is catered to by our friendly and approachable staff mindful of their role to ensure that a guests every need is matched with discreet and efficient service.
CPAI
APAI
JPAI
Per Room Per Night
Per Room Per Night
(Jeep minimum two pax sharing)
Single
Double
D/X Air Condition Cottage
Rs. 3225.00
Rs. 5500.00
For Foreigner Passport Holder
Rs. 8750.00
Rs. 14100.00
For Indian
Passport Holder
Rs. 7200.00
Rs. 9000.00
Air Condition Cottage

Rs. 2580.00

Rs. 5000.00
For Foreigner Passport Holder
Rs. 8300.00
Rs. 13600.00
For Indian
Passport Holder
Rs. 6700.00
Rs. 8500.00
Huts
Rs. 2150.00
Rs. 4700.00
For Foreigner Passport Holder
Rs. 8000.00
Rs. 11200.00
For Indian
Passport Holder
Rs. 6400.00
Rs. 8200.00
JUNGLE PLAN (JPAI) includes.
1. Accommodation in Air-Conditioned Cottage / Air-Cooled Hut.
2. All Meals (Morning Tea, Packed Breakfast for Safari or Excursion, Lunch, High Tea & Dinner.)
3. Evening Live Entertainment
4. Jungle Jeep safari
1. All Taxes
For extra guest satisfaction we have enhanced the services to provide.
(i).Welcome Drink
(ii).Fruit Basket; Cookies Tea/ Coffee making facility in Room
(iii).Unlimited Mineral Water.
(iv). One Herbal Massage
Note:
1. All charges for Elephant Ride, Cameras, Tips etc. will be charges extra.
2. If Park Entry charges are changes by the Park Authority at any time the extra charges would be Paid by the guest.
Book The Jewel of the Jungle
Get a Call Back from us
Please provide us your contact number and convenient time, our expert will call back to you.