Sultanpur Bird Sanctuary, Haryana
Location: Delhi - Jaipur highway ( 46 km from Delhi)
Founded by: Dr. Salim Ali
About Sultanpur Bird Sanctuary
Located at a distance of 46 kms from Delhi, Sultanpur Bird Sanctuary is a haven to a variety of domestic and migratory birds. Artificial mound, have turned into a green glade. The marsh has been converted into a water body. And with the years, hundreds of species of migratory birds have winged in to stay. Winter brings in birds from as far as Siberia. Flock of geese from Europe wing in too. The local birds flap in. The bird population include darters, egrets shovellers, gadwell and geese dominate. Teals, kingfishers, lapwings, sandpipers demoiselle cranes and such like water birds nestle in. Over 100 species have been identified here.
Please provide us your contact number and convenient time, our expert will call back to you.
Sultanpur Bird Sanctuary was a haunt of our very own birdman Late Dr. Salim Ali and innumerable bird watchers who come into observe bird antics. There are hide outs, watch towers and a museum of sorts for those keen on serious study. Guestrooms and catering wing, await the patrons.
Climate
The climate of this region is tropical with very hot summers and chilly winters. Monsoon approaches this place in the month of July and continues till mid-September. The best season to visit this park is winter as the chances of seeing the exclusive wildlife of this park is more in these months.
Location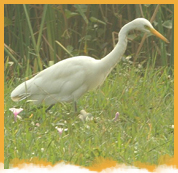 The Sultanpur National Park is located in the Indian state of Haryana at a distance of 45 km from Delhi, the national capital. The park extends from latitude 28°37' in the North to longitude 77°04' in the east. It is well connected by roads with Delhi and Gurgaon, the district headquarters.
Attractions
Flora: The vegetation of this park is tropical and dry deciduous and the flora include grasses, dhok, khair, tendu, ber, jamun, acacia, and banyan tree.
Fauna in Sultanpur Bird Sanctuary
The Sultanpur Bird Sanctuary is home to a large range of birds, both resident and migratory. Migratory geese and Siberian cranes spend the winter in Sultanpur and there are also the demoiselle cranes, ruddy shelducks, pelicans, flamingoes, bar-headed geese, grey lags, gadwalls, mallards, pochards, shovellers and teals. Local species include plovers, red-wattled lapwings, herons, cormorants, white ibises, spoonbills and painted storks.Other wildlife in the park include blackbuck, nilgai, hog deer, sambar, wild dog or dhole, caracal, wild cat, hedgehog, mongoose, striped hyena, Indian porcupine, rattle/honey badger, leopard, wild pig, and four horned antelope.
Other Attractions
Sultanpur Lake is the point around which the Sultanpur Bird Sanctuary has been developed. The lake is a picnic spot for the residents of Delhi and boating facilities are also available here. The lake has a good number of reptiles and it attracts a lot of migratory birds during winters.
Places Nearby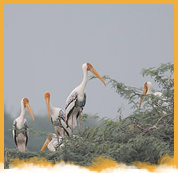 Delhi, at a distance of around 45 km from Sultanpur, is the capital of India and the seat of power since ancient times. Major tourist attractions here are the Red Fort, Chandni Chowk, Rashtrapati Bhawan, Qutub Minar, Bahai Temple, Rajghat, India Gate, and Jantar Mantar apart from numerous others. There are also many museums, libraries, art galleries, theaters, and educational institutions that can be visited.
Accommodation
Inside the park, the Haryana Tourism Development Corporation runs a tourist lodge that has air-conditioned as well as general rooms. The facilities there include a bar, restaurant, and cottages for the guests. One can also stay in any of the large number of hotels at Delhi or Gurgaon and go to Sultanpur for a weekend or day trip.
Travel Tips
For money exchange and other banking facilities Delhi and Gurgaon are the best places. There are branches of almost all the nationalized as well as foreign and private banks that accept travelers' cheques and exchange foreign currency.
Hotels & Resorts in Sultanpur Bird Sanctuary
Icons Summary

Restaurant
Internet Service
Tea/Coffe Machine
Business Centre
Swimming pool
Travel Desk
Doctor on Call
Baby Sitting
Health club
Bar
Safe Deposit
Amphitheatre
Library
Std/Isd
Money Exchange
Rosy Pelican Guest-house

Sultanpur Bird Sanctuary has guest house facilities for ornithologists, hideouts, watch towers, bird museum and even binoculars for hire. This bird sanctuary of Haryana is a find of the famous ornithologist Peter Jackson.
Sultanpur Bird Sanctuary Wildlife Tour Packages
Sultanpur Bird Sanctuary
250 species of Birds have been recorded at Sultanpur Bird Sanctuary. Some of them are resident, while others come from distant regions like Siberia, Europe and Afghanistan. Some of the resident birds: Common Hoopoe, Paddyfield Pipit, Purple Sunbird, Little Cormorant, Eurasian Thick-knee, Gray Francolin, Black Francolin, Indian Roller, White-throated Kingfisher, Spot-billed Duck, White Ibis, Black-headed Ibis, Painted Stork, Little Egret, Crested Lark, Red-vented Bulbul, Rose-ringed Parakeet, Red-wattled Lapwing, Shikra, Eurasian-collared Dove, Red-collared Dove, Laughing Dove, Spotted Owlet, Rock Pigeon, Magpie Robin, Greater Coucal, Weaver Bird, Bank Myna, Common Myna and Green Bee Eater.

Every year over a 100 species of migratory birds arrive here. In winter the sanctuary provides a picturesque view of birds such as Siberian Crane, Greater Flamingo, Ruff, Northern Pintail, Yellow Wagtail, White Wagtail, Rosy Pelican, Eurasian Wigeon, Black-tailed Godwit, Spotted Redshank, Bluethroat and Long-billed Pipit. In summer about 11 species of migratory birds such as Asian Koel, Comb duck, Eurasian Golden Oriole, Black-crowned Night Heron, Blue-cheeked Bee Eater, Blue-tailed Bee Eater and Cuckoos come here.
Sultanpur Bird Sanctuary Travel Information
General Information
Location
: Gurgaon, Haryana, India.
Founded By
: Dr. Salim Ali
Area
: 44.5 Hectare.
Language
: English, Hindi.
Establish
: 1972
Time to Visit
: October to March
Climate
: Climate of the area is tropical. It is quite hot in summer and chilly in winter. The best time to visit Sultanpur Bird Sanctuary is between December and January. This time you can see a number of migratory birds in the sanctuary.
Travel Tips
: Prior travel information is essential. Money changing facility is not available at the sanctuary, so it is better to convert your currency from Delhi or Gurgaon.
How to Reach Sultanpur Bird Sanctuary
By Air: Airport - Indira Gandhi International Airport, Delhi (35 km) Palam Domestic Airport, Delhi (35 km) The nearest airport from Sultanpur is the Indira Gandhi International Airport and Palam Domestic Airport in Delhi at a distance of just 35 km. Indira Gandhi airport is connected with most of the important international destinations by regular flights of the major airlines. Palam Domestic Airport is connected to almost all the major cities in India by regular flights of the Indian Airlines, Jet Airways, and Sahara Airlines apart from the other small domestic airlines.
By Rail :Railway Station - Gurgaon Railway Station (15 km) Gurgaon is the nearest railway station connected to Delhi and many places in Haryana and Rajasthan by regular trains. New Delhi, Nizamuddin, and Old Delhi railway stations are important railway links from where one can get trains to almost all parts of the country.
By Road: This place is well connected by roads with Delhi and Gurgaon, the district headquarters.
Wildlife Sanctuaries in Haryana
Wildlife Sanctuaries in Gujarat
Wildlife Sanctuaries in Andhra Pradesh
Wildlife Sanctuaries in Kerala
Wildlife Sanctuaries in Karnataka
Wildlife Sanctuaries in Madhya Pradesh
Wildlife Sanctuaries in Maharashtra
Wildlife Sanctuaries in Odisha
Wildlife Sanctuaries in Rajasthan
Wildlife Sanctuaries in Sikkim
Wildlife Sanctuaries in Tamil Nadu
Wildlife Sanctuaries in Uttar Pradesh
Wildlife Sanctuaries in Uttarakhand