Wild Chalet Resort, Kanha
Wild Chalet Resort is situated on the banks of the Banjar River , Wild Chalet is an ideal entrance to Kanha National Park Each of the Charming cream washed cottages, with a spray of bouganvillae growing over their sloping tiled roofs, command a magnificient view of the river with a backdrop of lush forests, The spacious and extremely comfortable rooms are equipped with all modern amenities to ensure a perfect retreat in the Wilds.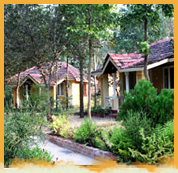 Individual Sit outs and hammocks strategically positioned are the perfect place to soak in the sun on a winter morning in Kanha.
The Centrally located Dining and recreational area is the place of all activities during your stay.
Naturalists help you unravel the mystery called Kanha during your stay as they guide you through Jungle safaris , nature walks, elephant rides, bird watching and wildlife films. Each member of the Wild Chalet team ensures that every guest is provided with impeccable service ,comfort and warmth of a home away from home where Rudyard Kipling wove the magicl tale of the Jungle book.
Facilities at Wild Chalet Resort include:
* All rooms self contained with all modern amenities
* Restaurant offering Indian , Continental and Chinese cuisine
* Bar
* Jungle safaris in Jeeps
* Wildlife movies and audiovisuals
* Tiger Shows / Rides on Elephant Back (subject to availability)
* Sizzling Barbecues around bonfires
* Tribal dances
* Nature trails
* Bird watching walks
* Boating
* Fishing
* Swimming
* Bullock cart rides
* Visits to Manegaon Tribal Village
* Visit to picturesque spot on the River - Bokardhara
Get a Call Back from us
Please provide us your contact number and convenient time, our expert will call back to you.