The Bans Bari Lodge
The Bansbari Lodge, situated in prime position right at the entrance to the national park, with tea gardens on one side, jungle and views of the Himalayan foothills on the other. It has 16 large twin-bedded rooms with attached bathrooms.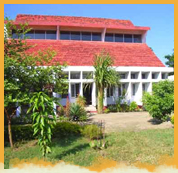 There is a welcoming atmosphere to the Lodge, which includes an attractive dining room and a lobby where you can relax on sofas, browsing through books from our library. In fine weather tables and chairs are set outside for breakfast and the spacious grounds are fast becoming a delightful garden in which to stroll. Each bedroom has comfortable twin beds, a writing-cum-dressing table, cane chairs to relax in, and good hanging cupboard space, while the bathrooms have excellent hot and cold showers with basin and w.c. Our policy at ABN is to provide employment as much as possible within the area and most of our furniture has been beautifully made by local craftsmen to our specification.
Get a Call Back from us
Please provide us your contact number and convenient time, our expert will call back to you.