Jim's Jungle Resort
Jim's Jungle Retreat is situated along the wild south-eastern border of Corbett Tiger Reserve. It is around 2 km from Jhirna forest range, which is open to visitors throughout the year. The Dhangari gate, which leads to the Ramganga reservoir, is a half hour drive north and is closed during the monsoon.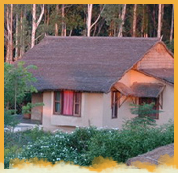 The retreat has 12 thatched cottages that stand offset in a row of six on either side of an island of native flowering trees and nesting shrubs, planted specially to attract transitory and domestic bird life. There are also 04 luxury tents with four poster beds and attached spacious bathrooms and private outdoor seating.
The cottages are situated in a manner as to provide the guest with complete privacy; we aim to bring the surrounding environment to you. Each cottage offers large wrap-around verandahs with views of the forest on one side and the Shivalik mountain range on the other.
We arrange jungle safaris into the reserve, in addition to nature walks and bike rides in the forest adjoining the retreat. Some of our guests have been lucky to spot a tiger on these walks as well. A jungle camp ambience recreated through the prism of the Raj, and Kumaoni and Anglo-Indian-inspired food, will keep you rested, relaxed and rejuvenated.
Facilities at Jim's Jungle Retreat:
* Multi-cuisine Dining
* Telephone
* TV in the sitting lounge
* Tea / Coffee available in rooms
* Running Hot and Cold Water
* Laundary facilities available
* Table Tennis, Badminton, Indoor Games
* Safaris, nature walks, bike rides
* Rappeling, angling and other adventure activity available on request
Get a Call Back from us
Please provide us your contact number and convenient time, our expert will call back to you.