The Celebration Van Vilas
Experience this wild life resort, located at Kanha , which has unparalled accommodation design and facilities and is enhanced by a great team of warm caring local people. Together they redefine the meaning of hospitality and execute their combined approach to wildlife tourism with professionalism and joy. The Resort borders the Banjar River on one side, allowing completely private access for fire - lit Picnic dinners and has easy access to kanha's entrance at KHATIA. The property is restricted the area designated for offered accommodation to an area of 5 acres, allowing space for the Jungle to reclaim its former holdings and lushness on the residnal land.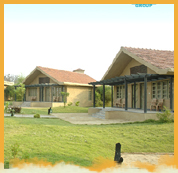 Celebration Van Vilas is fully supported by Raipur's one of the Leading Hotel, Hotel Celebration, a name synonymous with hospitality with the highest standards of catering, service and comfort. The resort, located in Madhya Pradesh's Mandla District, is accessible by road, rail and air. Jabalpur is 160 kms away, Nagpur 255 kms and Raipur 270 kms.
Accommodation Facilities:
* 25 A/c rooms with all fresco bathing facilities and a small private garden.
* 6 Air- cool rooms with separate upstairs.
* 3 spacious A/c Suites.
* All the Cottages have small seating areas in private garden.
Guest Room Facilities:
* The Décor of the room and maintain an aesthetic tradition, while offering modern conveniences.
* Individually controlled air- conditioning.
* Hot & cold water supply
* Rooms and bathroom electrical plugs supporting 240 volts.
* Laundry services
Specialized Facilities & Activities:
* The Resort has a franchise from the world famous Kairali Ayurveda centre of Kerala.
* A Garden Spa for traditional Kerala Massage and herbal remedies.
* The Garden Spa is divided into two zones for Ladies, & Gentleman.
* Helipad for perfect landings of private Helicopters.
* Naturalist accompanied Jungle Safaris in Kanha's core areas.
* Wildlife Slide and Film show.
* Tiger viewing from elephant back(subject to successful tracking by Mahavats(mahouts)
Indoor Facilities:
* Packed park breakfasts are served during morning safaris in the core of Kanha
* Lunch Buffet is served between 12:30 to 1:30 pm at the Kipling Restaurant
* Buffet dinners are served at both the Kipling & Bamboo Jungle Restaurants from 8:00 to 9:00 pm.
* "By the Banjar" or "Besides the bird nest" private dinning areas are available for special order meals.
* Guest can even request for Tribal Dance evenings at the open garden restaurant.
* Cyber cafe offers Internet, Fax machine & Telephone facilities etc.
* A wildlife reference and general library.
* A small daily needs Shop is situated near reception.
* Safe Deposit facilities are available in front desk.
* Separate Conference facilities in a traditional setting
* Travel desk and vehicle hire facilities.
Outdoor Facilities:
* A large and beautifully designed Swimming Pool.
* An adjacent Children's play pool containing only one foot of water.
* The main pool has a small deck area within the pool for relaxing under the sun.
* Diving in the pool is strictly prohibited; Pool closes at 7:00 pm.
* Indoor & outdoor children's play area with Air Hockey.
* Basket Ball / Volley ball court, situated at a distance from the Resort.
* A well equipped Gymnasium and Jacuzzi etc.
* Two private Massage rooms.
* Meditation and Yoga room.
* An open air Yoga and meditation centre.
* Fully qualified ayurvedic / homeopathic doctors for consultancy & remedies.
* By-cycles hire for short ride within & outside
Other Attraction & Activities:
* Meeting room with traditional look for conference etc.
* Franchise of Kairali Ayurveda of kerala, the world famous Ayurveda centre.
* SPA with Garden for traditional Karela massage and herbal Remedies.
* SPA is divided into two zones i.e. Ladies, & Gents.
* Helipad for perfect landing of your Helicopters.
* Tiger show on the Elephant back.
* Wild Life Film show.
* Jungle Safari
Book The Celebration Van Vilas
Get a Call Back from us
Please provide us your contact number and convenient time, our expert will call back to you.