Camp Riverwild
Home to six luxurious suites, all overlooking the riverbed, Camp Riverwild boasts all the features of an exceptional jungle Retreat - beautiful setting, excellent cuisine and abundant wildlife.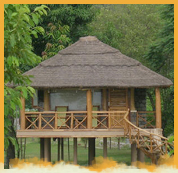 All suites are fully equipped with air conditioning, double beds, en-suite bathrooms, private viewing decks. Thatched roofs, wooden and stone finishes complete the picture of an exclusive getaway. Each Cottage has its own private Deck, ideal for private game veiwing as well as relaxing, reading and soaking.
Adventurous wildlife safaris and viewing several species of animals and 580 bird species, from open Gypsy in the company of a qualified Guide, make for a truly memorable experience, and the highlight of your holiday
Facilities at Camp Riverwild:
* Multi cuisine restaurant
* 24 hrs Room service
* Air Conditioning Room
* Laundry, Luggage Storage
* Telephone/Fax Facilities
* Doctor on call
* Conference hall
* Ample parking area
* Health and Fitness center
* Tourist information desk
* Communication center
Get a Call Back from us
Please provide us your contact number and convenient time, our expert will call back to you.