Corbett River View Retreat
Located on the edge of Corbett National Park and reserve forest, the Kosi River runs alongside the resort for a kilometer, flanked by cliffs and forest. This luxury jungle resort, situated in 21 acres has 21 deluxe suites and 10 deluxe double rooms, ideal for a relaxing holiday to renew your spirits.
Resort Accommodation: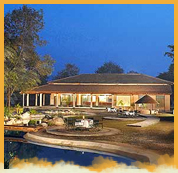 Almost every room in the hotel has a breath-taking view of the hills or the river Kosi.
Suites Room:
The suites have large air-conditioned bedrooms with fireplace and a sitting area. The rooms are large airy with plenty of daylight, and tastefully done up.
Double Rooms:
Are airy rooms with comfortable double beds. Bathrooms are well fitted with modern amenities and showers with 24-hour hot water. Much of the furniture is traditional.
Dining Facilities:
River's Edge Restaurant at Corbett Riverside resort offers Indian, Chinese, Continental cooked by expert chefs. Tandoori and Bar-be-que dishes are our specialties. The resort offers an in-house dining room where all meals are served in buffet style. The restaurant also has an open deck overlooking the river.
Conference Hall:
Our conference room can accommodate up to 60-persons. It is an ideal location for management offsite meetings, brainstorming and business planning sessions.
Recreation Facilities at Corbett Riverside Resort:
* Jungle Safari
* Trekking/ Rock Climbing
* Horse Riding
* Kayaking & Rafting
* Fishing & Angling
* Swimming Pool
* Indoor & Outdoor Game
Book Corbett River View Retreat
Get a Call Back from us
Please provide us your contact number and convenient time, our expert will call back to you.