Corbett Countyy
Corbett Countyy is a place very close to nature, the charm of the place is in the serene environment that it provides to the guests, One thing they always long for in their cities.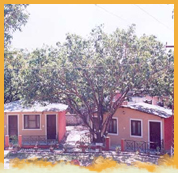 Eight comfortable and well appointed rooms at corbett countyy will make you feel at home amidst the jungle. Resort's restaurant which serves authentic Indian Indian cusine will certainly be your place of interest after an adventerous day out in the Jungle.
The adventurous part of you will be definitely put to test if you hit the unexplored trails of the jungle for nature walks, or join our in river crossing or repelling sports. An open jeep safari jeep safari can not be ruled out if you are in lookout for the wildlife at the Jim Corbett National Park.
You can relax in the evenings at bonfire hut, recollecting the memories of the day gone by sipping a hot cup of tea or coffee. A Bar-be-Que next to the bonfire can only add to the spice of the memories.
Facilities at Corbett Countyy:
* Multi cuisine restaurant
* 24 hrs Room service
* Air Conditioning Room
* Laundry, Luggage Storage
* Telephone/Fax Facilities
* Doctor on call
* Conference hall
* Ample parking area
* Health and Fitness center
* Tourist information desk
* Communication center
Get a Call Back from us
Please provide us your contact number and convenient time, our expert will call back to you.