Junglemantra Resort
An exclusive luxury wildlife resort Junglemantra undoubtedly has the best location in Bandhavgarh for wildlife lovers, birdwatchers and naturalists. Situated in the valley between the core forest and buffer zones of the National Park, with extensive private grounds (25 acres), Junglemantra offers an authentic safari experience.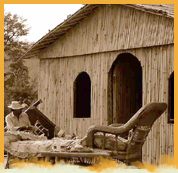 Junglemantra is superbly located in 25 acres of mixed mature woodland on the banks of a perennial lake.
Resort has independent, luxurious, charming, rustic rooms, quietly blending in with the surrounding woodland. The cottages are spacious, comfortable and beautifully furnished, yet retain the style and simplicity of a true safari camp. A restful private verandah overlooks the vista of jungles.
Chakor-Ghar A large, raised, open - plan outdoor seating and dining area with central fireplace, offering spectacular panoramic views of core National Park. An indoor seating and dining area is also provided.
A screening room for guests to enjoy wildlife films, documentaries, screens their own wildlife video footage and watch slide shows on bird and animal life presented by in - house naturalists.
Get a Call Back from us
Please provide us your contact number and convenient time, our expert will call back to you.