Mahua Kothi Bandhavgarh
Nestled in the vicinity of the breathtaking Bandhavgarh National Park is the first of the Taj Safaris Lodges. The name Mahua Kothi draws inspiration from one of India's most beautiful trees, the Madhuca Indica, or as it is commonly known, the Mahua or butter tree. Its luscious off-white flowers take centre-stage in many Indian festive rituals, and here, at Mahua Kothi, it is at the centre of many a unique and delightful experience. The lodge sprawls over the 40 acre grounds, around the renowned erstwhile tented camp, Churhat Kothi, the accommodation and facilities of the lodge blend charmingly into the quaint and rustic surroundings.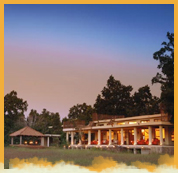 Mahua Kothi is the first of five Lodges that, in true Taj style, break new ground in the Indian tourism industry. Offering a never-before-experienced Indian wildlife circuit, replete with both adventure and - unlike any safari experience in the country so far - impeccable service and lush luxury.
Mahua Kothi promises an experience that is unconventional, focused on guests' individual needs and emotions, knowledgeable, sophisticated and innovative.
Facilities at the Mahua Kothi:
* Air conditioning
* Bath and indoor shower
* Laundry services
* Doctor-on-call
* First-aid and outdoor emergencies
* Spa and massage facilities
* Pick-ups and transfers from and to railway stations and airports
* Intercoms for emergencies, and radios in all safari vehicles
* A security escort for each guest Naturalists trained in animal behaviour
Get a Call Back from us
Please provide us your contact number and convenient time, our expert will call back to you.