Dhikala Forest Lodge
Corbett's main camp, Dhikala, beautifully situated, overlooking the Ramganga reservoir and the forested hills beyond, is 40-kms northwest of Ramnagar. You can only stray beyond the confines of the camp under armed guard, on an Elephant back or in a car or jeep.
Accommodation Facilities :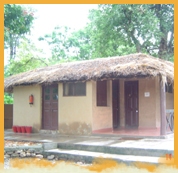 Accommodation ranges from the 24 bunk beds in the Log Huts and other assorted spartan huts, to more comfortable bungalows and cabins.
Food & Other Services :
Food is available in the lodge canteen either per day, with tempting western food, and affordable Janta meals.
There is also a Dhaba, frequented by the park staff who wit and tell of their adventures and latest sightings.
There's also a library and reading room, where film shows on wildlife are run.
Leisure & Sports Activites
It's normally possible to see plenty of animals and birds from the lookout tower beside a waterhole 1-km from the Dhilkala camp. Elephant safari and jeep rides are also organised for wildlife viewing.
Book Dhikala Forest Lodge
Get a Call Back from us
Please provide us your contact number and convenient time, our expert will call back to you.