Spice Village, Periyar
Set in the heart of the Cardamom hills of Kerala, Spice Village is an unprecedented tourist destination, offering a rare opportunity to enjoy South India's wildlife & Beauty. The Village lies just outside Periyar tiger reserve, and a stay here is the perfect way to appreciate and respect the environment. Recreating the mood of local tribal community, the resort architects have designed individual cottages amongst a landscaped spice garden. Each dwelling is thatched with elephant grass & offers simple luxury & privacy.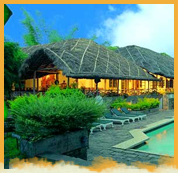 Location:
190 kms from Cochin, 130 kms from Madurai Airport, 100 kms from Munnar, 170 kms from Kumarakom Backwaters, 265 kms from Kovalam Beach
Accommodation:
Offering accommodation in total 52 huts including 5 suites.
Services and Facilities:
Boat Rides at Periyar Tiger Reserve, Forest Treks, Ayurveda & Rejuvenation, Visit to Spice Plantations.
Recreation Facilities:
Water Safari, Forest Treks, Visit to Spice Plantations.
Get a Call Back from us
Please provide us your contact number and convenient time, our expert will call back to you.