Kaliabor Manor Resort
The Kaliabor Manor is a wildlife resort perched besides the tea gardens of Kaliabor and overlooks panoramic vistas in all directions, capturing the mighty Brahmaputra in a most memorable way. Kaliabor Manor is an exclusive destination for birding. About 300 species of rare birds are found in the resort itself.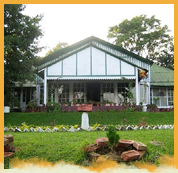 Kaliabor Manor is a treat to the wildlife lovers and is strategically located from the world famous Kaziranga National Park, Nameri National Park and Orang National Park. The Kaliabor Manor has a feeling of traditional rustic without losing that all-important luxury and comfort.
Accommodation Facilities:
The Kaliabor Manor is distinctly divided into the heritage bungalow and the spectacular cottages. Kaliabor Manor provides accommodation for 20 guests in four heritage rooms in the bungalow and six private cottages. The cottages have a built up area of more than 400 sq. ft each and the heritage rooms have a built up area of more than 1000 sq. ft. each.
All the cottages have private garden and an outside deck for sunbathing. The cottages feature king sized beds, freestanding rolltop baths and separate showers. The cottages have wooden floor ing and embroidered interiors and are furnished in regal and elegant style. All the heritage rooms and the cottages have a DVD player and a minibar.
Other Facilities at Kaliabor Manor Resort:
* Wild water rafting and hiking
* Bird Watching
* Wilderness walks
* aromatherapy
* Ayurveda & Spa
Book Kaliabor Manor Resort
Get a Call Back from us
Please provide us your contact number and convenient time, our expert will call back to you.