The Kings Sanctuary Resort
The Kings Sanctuary is a 5 Star Deluxe jungle resort, located at the northern fringe of the Rajiv Gandhi National Park, Nagaraholae just 200 Km from Bangalore, South India. The accommodation features a mix of adobe - style cottages and lake facing lagoon suites. Each spacious cottage and suite has a living room and an air-conditioned bedroom tastefully decorated using renewable resources like cane, weeds and banana fiber.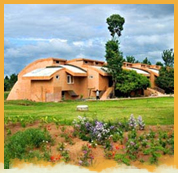 Set in the midst of 34 acres of mango orchards and lush lawns , the Kings Sanctuary has 24 air conditioned luxury suites and cottages, a swimming pool, conference hall and a wide range of activities for both adults and children including the jungle safaris into the national park accompanied by wild life experts. The Kings Sanctuary is an ideal resort for family vacations and corporate getaways.
Cottages:
There are splendid adobe-style cottage clusters, each with a verandah, arranged around a central courtyard. As warm and inviting as they are, all are cozy and private. Bathrooms are contemporary with the unique 'open to sky' concept. Relax with the setting sun's dying rays and watch the shadows lengthen over the resort.
Suites:
Then there are the lagoon suites fringing the 6 acre lake. Some beneath mango trees; all lake facing larger groups will find the duplex accommodation very pleasing.
Facilities at The Kings Sanctuary Resort:
* Multicuisine Restaurant
* Swimming Pool
* Conference Room
* Games room
* Outdoor Games
* Gym
Activities offered by The Kings Sanctuary Resort:
* Jungle Safari
* Bird Watching
* Jumaring
* Rappelling
* Rock Climbing
* Trekking
* Riffle Shooting
* Tribal Dance
* Bonfire
Book The Kings Sanctuary Resort
Get a Call Back from us
Please provide us your contact number and convenient time, our expert will call back to you.