Corbett Suman Grand
Corbett Suman Grand is a boutique resort at the outskirts of the Corbett National Park. Sharing Reserve Forest boundary where one can see the wild life during night, right from the balcony of our Premium cottatges and Kosi flowing behind the resort make this resort even more interesting and enchanting.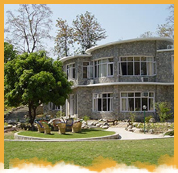 Equipped with all modern amenities and facilities this resort is an excellent blend of modernity and nature in its original form. Personalized hospitality and serene ambience makes this resort a little more special place for your perfect holiday.
Recreation Facilities at Corbett Suman Grand:
* Par-excellence hospitality.
* 24 Luxury Air Conditioned Cottages.
* Fireplace in each cottage.
* Intercom facility.
* Tea and coffee maker in all cottages.
* Hot and cold water round the clock
* 02 Air Conditioned Conference Halls with modern conferencing facilities.
* Air Conditioned multi-cuisine Restaurant.
* Swimming pool.
Recreation Activities:
* Open jeep safari in Bijrani, Jhirna, and Sitabani region of Corbett National Park
* Canter safari in Dhikala region of Corbett National Park
* Elephant ride in Jungle.
* Exciting Camping in the Jungle.
* River crossing at Garjia Hanging Bridge over Kosi.
* Slithering at Garjia Hanging Bridge over Kosi.
* Rafting During Monsoon
* Guided trekking.
Get a Call Back from us
Please provide us your contact number and convenient time, our expert will call back to you.