Camp Serai Tyger
Camp Serai Tyger is situated about 125 kms from Nagpur in Chandrapur district. There is a beautiful tiger reserve 35 kms from Chandrapur, called Tadoba-Andhari-Tiger-Reserve (T-A-T-R).
Camp Serai Tyger is located on the South-Western tip of the core area of Tadoba-Andheri Tiger reserve, 4 Kms. from the entrance to the reserve at Moharli. Our resort is located close to two water holes frequented by Leopards, Sloth Bear, Bison, Wild Dog and Tigers and many species of Indian deer(antelope) like the Sambhar, Chital and the barking deer.
Facilities:
. 11 Tented accommodation with attached WC,
. Rooms are Air conditioned and Air cooled
. 2 Air cooled dormitories (16 bunk beds each and attached toilet)
. Generator backup
. In house meal Facilities
. Food: Veg and Non-veg Food available. table serving is done for less guests, but we arrange buffet system in general.
. Bottled water, soft drinks and snacks are charged separately. Liquor is not served at the resort
Acommodation:
1- A/C Tent
2- Non A/C Tent
3- Dormitories.
How to Reach:
This camp is developed specially for serious wildlifers and birdwatchers. Camp is surrounded by the jungle at its North and East and Erai Reservoir surrounds it at its West and South.Our camp 'Serai Tyger' has got a very good connectivity from Nagpur 125 kms (Air, Rail,Road), Wardha 125 kms (Rail & Road), Chandrapur 35 kms (Rail & road) and also Ballarshah 45 kms (Rail & Road).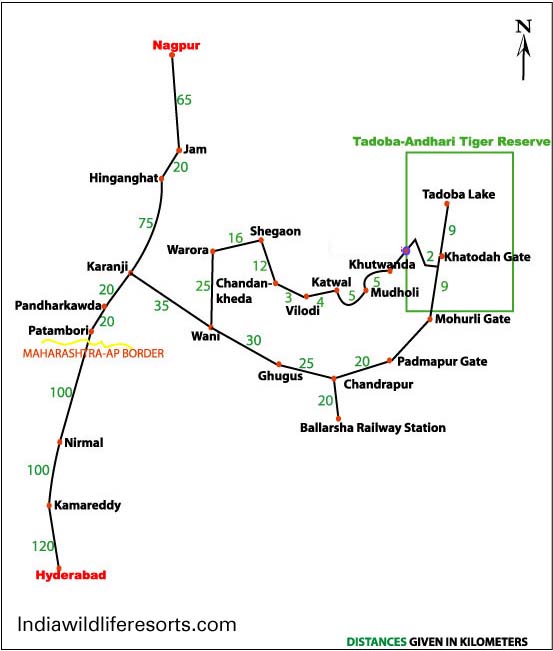 Get a Call Back from us
Please provide us your contact number and convenient time, our expert will call back to you.