Kaziranga National Park, Assam
About Kaziranga National Park:
Kaziranga National Park, the world heritage site center and the only paradise for the endangered one-horned Indian rhinoceros, bring much attention to the wildlife lovers across the world. By hosting one two-thirds of the world's Great One-horned Rhinoceroses, Kaziranga boasts the highest density of tigers among protected areas in the world and was declared a Tiger Reserve in 2006.
Please provide us your contact number and convenient time, our expert will call back to you.
Location
Located in the Golaghat and Nagaon district of Assam, the world heritage site Kaziranga was established in the year 1905 and about 68 years later was declared as national park. Not only the home to the one-horned rhinos along with other major wild species, Kaziranga is also a perfect home to for great variety of inhabitant and migrating birds. This is the reason this land is also declared as an Important Bird Area by Birdlife International.
Located on the banks of river Brahmaputra, the sanctuary enjoys tropical vegetation and is marked by elephant grass, marshy lowlands and tropical moist broadleaf forests. The beautiful flora and diverse fauna adds to the scenic beauty of the park.
Geographical Details
Kaziranga Reserve is being located between the latitudes of 26°30' N and 26°45' N, and longitudes 93°08' E to 93°36' E within two districts of Assam-the Kaliabor subdivision of Nagaon district and the Bokakhat subdivision of Golaghat district. Kaziranga has flat expanses of fertile, alluvial soil formed by erosion and silt deposition by the Brahmaputra. The landscape consists of exposed sandbars, riverine flood-formed lakes known as, beels, (which make up 5% of the surface area) and elevated regions known as, chapories, which provide retreats and shelter for animals during floods.
Flora in Kaziranga
The Kaziranga Park is enriched with four different types of vegetations including alluvial inundated grasslands, alluvial savanna woodlands, tropical moist mixed deciduous forests, and tropical semi-evergreen forests. The percent coverage of the vegetation tall grasses 41%, short grasses 11%, open jungle 29%, swamps 4%, rivers and water bodies 8%, and sand 6%. Besides, the land is also being covered with thick evergreen forest along with different aquatic floras in the lakes and ponds and along the river shores.
Fauna in Kaziranga
Kaziranga is the only land in the East India that contains significant breeding populations of 35 mammalian species. Being plush in the vicinity the wildlife enthusiasts can obtain a great chance of encounter with the heavy populated varied wild species like Wild Asiatic Water Buffalo, and Eastern Swamp Deer. Also look out for elephants, gaur, samabar, and Indian Muntjac, wild boar, and hog deer. Hispid Hare, Indian Gray Mongoose, Small Indian Mongooses, Large Indian Civet, Small Indian Civets, Bengal Fox, Golden Jackal, Sloth Bear, Chinese Pangolin, Indian Pangolins, Hog Badger, Chinese Ferret Badgers, and Particolored flying squirrels are also highlight of the park. The Assamese Macaque, Capped, Golden Langur, as well as the only ape found in India, the Hoolock Gibbon must not be missed. Above all, the most fascinating is the dolphins. Yes, Ganges is only freshwater river which is an inhabitant of the dolphins in India.
Climate Conditions
Kaziranga Park is being flourished with the Brahmaputra River Valley and is one of the rainiest places on earth to receive 150 cms of rain every year. This is the reason why the regions are often flooded by Brahmaputra to maintain the ecological balance of the park. But the park officials are always ready for it to bring the proper maintenance for tourism in Kaziranga.
The park roughly experiences 3 seasons-summer, monsoon and winter. The dry and windy summer extends approximately from February to May with mean maximum and minimums of 37 °C (99 °F) and 7 °C (45 °F), respectively. The hot and humid Monsoon season extends from June to September. During the monsoon, Kaziranga receives mean rainfall of 2,220 millimeters (87 in) brought by the South West monsoon. The winter, extending from November to February, is mild and dry, with the mean maximum and minimum being 25 °C (77 °F) and 5 °C (41 °F), respectively.
Hotels & Resorts in Kaziranga National Park
Icons Summary

Restaurant
Internet Service
Tea/Coffe Machine
Business Centre
Swimming pool
Travel Desk
Doctor on Call
Baby Sitting
Health club
Bar
Safe Deposit
Amphitheatre
Library
Std/Isd
Money Exchange
Bon Habi Jungle Resort

Bon Habi lodge is just a short walk from Kaziranga National Park, main entrance gate of Kohora Central Range. It provides visitors a truly exciting and rewarding jungle experience.
Wild Grass Lodge

The Wild Grass lodge is located outside Kaziranga National Park area and is about 200-kms away from Guwahati. Built in an attractive rural style kind of architeture, the resort's surrounding ground.
Kaliabor Manor Resort

The Kaliabor Manor is a wildlife resort perched besides the tea gardens of Kaliabor and overlooks panoramic vistas in all directions, capturing the mighty Brahmaputra in a most memorable way.
Kaziranga Resort

Kaziranga Resort (a unit of GL's Resort) offers relaxed elegance, fine dining, efficient service and all the latest amenities to ensure the best in comfort.
Landmark Woods

Landmark Woods, a world class resort amidst breathtaking greenery and spread over 15 acres of undulating landscape. Thirty lavish well appointed rooms, complimented with amenities and room service, a fusion cuisine restaurant .
Iora Resort

Nestled amidst rolling hills of lush green tea and conveniently located just off National Highway 37 on the Guwahati Dibrugarh Sector IORA is the newest luxury resort at Kaziranga. IORA is a perfect blend of the tranquility .
Aranya Resort

Aranya Forest Lodge is only 3 kms away from park entrance at mihimukh, kaziranga. Forest lodge is run by the assam government and it is spread in 7 acres.
Fauna of Kaziranga National Park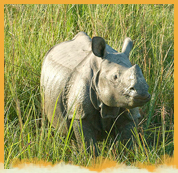 Kaziranga contains significant breeding populations of 35 mammalian species, of which 15 are threatened as per the IUCN Red List. The park has the distinction of being home to the world's largest population of the Great Indian One-Horned Rhinoceros (1,855), Wild Asiatic Water Buffalo (1,666) and Eastern Swamp Deer (468).Significant populations of large herbivores include elephants (1,940), gaur (30) and sambar (58). Small herbivores include the Indian Muntjac, wild boar and hog deer.
Birding in Kaziranga National Park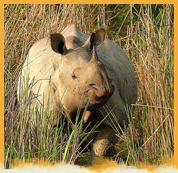 Kaziranga National Park is also famous for its sizable population of exotic and rare birds. In addition to about 250 species of domestic birds, thousands of migratory birds, representing over 100 species, visit the park seasonally from as far as Siberia. Kaziranga is also home to some of the most endangered species of exotic and rare birds in India. The commonly seen birds in Kaziranga National Park include the Black Kite, Brahminy Kite, Black-Shouldered Kite, Blue-breasted Quail, Himalayan Griffon, Grey-Headed Fishing Eagle, Grey Peacock Pheasant, Pallas's Fishing Eagle, Oriental Honey Buzzard, Rose-breasted Parakeet, Red Jungle Fowl, Swamp Partridge, White Tailed Eagle to name a few. The prominent migratory birds that visit the park during winters are Graylag Geese, Bar-Headed Geese, Ruddy Shelduck, Gadwall, Falcated Duck and Red-Crested Pochard among many others.
Reptiles in Kaziranga National Park
Crocodiles - Gharial
Lizards- Assam garden lizard, assam olive-brown skink, assam greyish-brown gecko, common indian skink, common bengal monitor, dotted garden skink, indian water monitor, light-olive assam garden lizard, tuckto gecko, ticticky house gecko
Snakes - Bengal cobra, black krait, common kukri snake, striped keelback, checkered keelback watersnake, common or long-nosed vine snake, rock python, reticulated python, copperhead trinket snake, rat snake, common krait, banded krait, king cobra, russel's viper, pit vipers
Turtles and Tortoises - Assam roofed turtle, brown roofed turtle, brown hill tortoise, indian roofed turtle, indian tent turtle, indian eyed turtle, gangetic or indian softshell turtle, indian peacock softshell turtle, narrow headed softshell turtle, indian flapshell turtle, oldham's leaf turtle, keeled box turtle, malayan box turtle, spotted pond turtle.
Fishes in Kaziranga National Park
Amblypharyngodon mola, amphipnous cuchia, aorichthys seenghala, anabas testudineus, bagarius bagarius, catla catla, chanda nama, channa amphibia, channa orientalis, channa marulius, channa punctata, channa striatus, cirrhina mrigala, clarius batrachus, colisa lalius, colisa fasciata, eutropiichthys vacha, gudiusia chapra, glossogobius giuris, heteropneustes fossilis, labeo bata, labeo calbasu, labeo rohita, labeo nandina, labeo gonius, mastacembelus armatus, mystus bleekeri, mystus cavasius, mystus menoda, mystus vittatus, nandus nandus, notopterus chitala, notopterus notopterus, ompak pabo, salmostoma bacaila, puntius ticto, puntius sarana, rasbora daniconius, rasbora elenga, tetraodon cutcutia, wallago attu.
Kaziranga National Park Travel Information
Travel Tips
By Road : The gateway for Kaziranga Wildlife Sanctuary, at Kohora region on the NH-37, links with a handful of cafes and a little regional bazaar. ASTC and private buses end here, the root is from Guwahati, Tezpur and Upper Assam.
By Rail : The nearest railway station to Kaziranga is Furkating, which is 80 km away. Furkating is connected by trains from Delhi and Kolkata.
By Air : The adjacent airport is located at Guwahati, which is 217-km clear of the park. The other airport is positioned at Jorhat, 97-km as of Kaziranga.
Best Time to Visit
For visiting in Kaziranga, you can choose the time to 15th November to early on April months which is the best time for visiting the best rhinos of the world.