Manas National Park, Assam
Area: 39,100 hectares/2840 sq km.
Established: First established in 1928 as a reserve forest, the Manas National Park was designated as a tiger reserve in 1973.
Please provide us your contact number and convenient time, our expert will call back to you.
About Manas National Park:
Situated in the foothills of the Bhutanese Himalayas, it is famous for its majestic tigers and the golden leaf monkey. Named after the Manas river, which separates Bhutan from India, the park has dense deciduous forests spread over an area of 2840 sq km which provide a sanctuary to twenty highly endangered species of birds and animals, including the hispid hare, pygmy hog and the red panda which can be seen occasionally at higher altitudes. The sanctuary is situated in both India and Bhutan, the two parks, both named Manas, being contiguous.
Along the Manas river and its tributaries are spreads of riverine forests as well as tall grasslands on the floodplains. To the south of the border, the Indian part of Mb has tropical forests on high ground, and riverine forests and tall grasslands on the lower plains.
Birds which can be seen here are the giant hornbills, both pied and gray varieties, pheasants, jungle fowl, scarlet minivet, partridge, florican, and a variety of water birds like the brahminy ducks, mergansers and a range of egrets, herons and pelican. Visitors to the park especially mention the stunning sight of large numbers of hornbills flying over the Manas river early mornings and evenings.
The Manas National Park in India and Bhutan are the only known home of the Golden Leaf Monkey discovered only a few decades ago. Other mammals, includethe rare and endangered hispid hare and pygmy hog. Lager mammals include the Indian elephant, gaur, water buffalo and Indian rhinoceros.
Flora in Manas National Park:
The Burma Monsoon Forests of Manas lie on the borders between the Indo-Gangetic and Indo-Malayan biogeographical realms and is part of the Brahmaputra Valley Biogeographic Province. The combination of Sub-Himalayan Bhabar Terai formation with riverine succession leading up to Sub-Himalayan mountain forest makes it one of the richest biodiversity areas in the world.
The main vegetation types are:
i) Sub-Himalayan Light Alluvial Semi-Evergreen forests in the northern parts.
ii) East Himalayan mixed Moist and Dry Deciduous forests (the most common type).
iii) Low Alluvial Savanna Woodland, and
iv) Assam Valley Semi-Evergreen Alluvial Grasslands.

Much of the riverine dry deciduous forest is at an early successional stage. It is replaced by moist deciduous forest away from water courses, which is succeeded by semi-evergreen climax forest in the northern part of the park. A total of 543 plants species have been recorded from the core zone. Of these, 374 species are dicotyledons (including 89 trees), 139 species monocotyledons and 30 are Pteridophytes and Gymnosperms. The Park's common trees include Aphanamixis polystachya, Anthocephalus chinensis, Dillenia indica, S. formosum, Careya arborea, S. oblatum, Cinnamomum tamala, Gmelina arborea, Bauhinia purpurea, Mallotus philippensis, Bombax ceiba, Sterculia villosa, Syzygium cumini, D. pentagyna, Lagerstroemia parviflora, L.speciosa, Terminalia bellirica, T. chebula, Trewia polycarpa, Actinodaphne obvata, Oroxylum indicum and Bridelia spp. The Grasslands are dominated by Imperata cylindrica, Saccharum naranga, Phragmites karka, Arundo donax, Dillenia pentagyna, Phyllanthus emblica, Bombax ceiba, and species of Clerodendrum, Leea, Grewia, Premna and Mussaenda.
Fauna in Manas National Park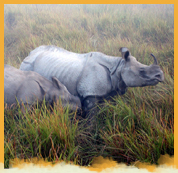 The park has recorded 55 species of mammals, 380 species of birds, 50 of reptiles, and 3 species of amphibians. Out of these wildlife, 21 mammals are India's Schedule I mammals and 31 of them are threatened. The fauna of the park includes Asian Elephants, Asian Water Buffaloes, Barasingha, Indian Rhinoceros, Asian golden cat, Assamese Macaques, Clouded Leopards, Capped Langurs, Golden Langurs, Gaurs, Hoolock Gibbons, Tigers, Leopards, Barking Deer, Slow Loris, Smooth-coated Otters, Sloth Bears, Hog Deer, Sambar Deer and Chital. Manas houses about 380 species of birds. Manas have the largest population of endangered Bengal Florican. The major other birds includes Bee-Eaters, Bulbuls, Brahminy Ducks, Egrets, Fishing Eagles, Falcons, Giant Hornbills, Grey Hornbills, Harriers, Herons Jungle Fowls, Kalij Pheasants, Mergansers, Magpie Robins, Ospreys, Pelicans, Pied Hornbills, Serpent Eagles, Scarlet Minivets and etc.
Manas National Park Travel Information
Getting to Manas national park is not a problem at all as it is located 3 hours from Guwahati.
Connectivity : Manas is well connected by all means of transport:
It is 176 Kms from Guwahati by road. Nearest railway station is Barpeta road railway station it is 41 Kms from Manas and nearest airport is Lokapriya Gopinath Bordoloi International Airport at Guwahati.
Best Time to Visit:
Season to visit is from November to April.
Manas National Park Map