Nandankanan National Park, Orissa
Location : 20 km from Bhubaneshwar
About Nandankanan National Park
Please provide us your contact number and convenient time, our expert will call back to you.
Located at a distance of 20 kms from Bhubaneshwar, Nandankanan justifies its literal meaning i.e. "Garden of Pleasure" picturesque Nandankanan, or the Garden of the Gods, is a beautiful biological park, 20 kms from Bhubaneshwar, established in 1960. It sprawls across the Chandaka forest, where the flora and fauna flourish in their natural habitat. The nandankanan national park houses the very first captive gharial breeding centre of the country. The zoo at Nandakanan is world-renowned for its white tigers. In 1980, for the very first time, three white tiger cubs were born from normal coloured parents.
With facilities for boating, white tiger and lion safaris, a nocturnal animal house, reptile park, aerial ropeway and cable car, it is the place for a person with a penchant for the great outdoors.
Nandankanan's beatifully versatile environs offer the tourists a great opertunity to be advanturous or laid back. If you do not feel like tearing aroud sighting animals and watching the birds,you can settle down to a leisurly picnic and mid-afternoon nap under the trees .If you feel a little more energetic you can meander along one of their nature trail.
White Tiger Breeding
One of the rarest creature in the World , the regal white tiger ,received the new lease of life with the important reaserch and concereted efforts initiated to try and breed then in the natural invirons of Nandankanan . 1980 on a day full exitement and jubilation, the first litter of White tigers were born to Deepak and Ganga , to twany tiger . Subsiquent litters of white tigers have been distributad to zoos both at home and abroad.Currently, Nandankanan is home to over 34 white tigers.
Access
The sanctuary can be approached by bus from Bhubaneshwar.
Nandankanan National Park
At this moment we don't have any specific Tour package for Nandankanan National Park, but our representative would be happy to assist you if you are planning to visit Nandankanan National Park you can contact us with your query on the following no / email.

Tel + 91- 120 - 40526011 - 98 (88 hunting lines are available

(24 hrs helpline) + 91 - 9212777223 / 24 / 25

Email: info@indiawildliferesorts.com
Wildlife in Nandankanan National Park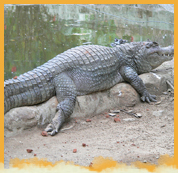 Nandankanan is the home of rare great indian white tigers and gharial crocodiles. Apart from white tiges, park is ideal destinations for watching Asiatic Lion, sanghai, lion tailed macaque, nilgiri, mouse deer, langur, Indian pangolin, mouse deer and countless birds, reptiles and fish.

Here is also a successful Black Panther breeding programme. In all, over 67 kinds of mammals, 18 varieties of reptiles and 81 species of birds co-exist in the deeply forested boundaries of Nandankanan.
Nandankanan National Park Travel Information
General Information
State
: Orissa
Total Area
: 4.37 sq km
Protected Area
: 3.62 sq km
Nearest Town
: Bhubaneswar, 18 km
Time to Visit
: October to early June
Park opening Time
: the park opens up at 7.30 am and closes down at 6.00 pm during summer whereas the winter timings are from 8 am to 5 pm.
How to Reach Nandankanan National Park
Airport
: Nearest airport is Bhubaneswar (20 km) with air connection to Bangalore, Kolkata, Delhi, Mumbai, Chennai, Vaizag, Hydrabad.
Railway Station
: Nearest Railhead is Bhubaneswar on Eastcost Railway station, which has super fast trains connecting all major cities.
Road
: Bhubaneswar is well connected to other parts of the state.