Living in a metropolitan city like Delhi can more often than not make you feel detached from the awe-inspiring beauty of nature. The combination of frenetic lifestyle, working non-stop like a machine and pollution soaks all the energy in one's body. As the stress on the body intensifies, the yearning for a much needed breather from the concrete jungle to refresh your mind also gets stronger. Now the question that pops out here is 'WHERE TO GO'? It is certainly hard to imagine any place in the national capital of India replete with verdant landscapes. Thankfully, there are several enchanting getaways near Delhi in the form of national parks and wildlife sanctuaries where you can spend a rejuvenating vacation in the company of exotic fauna and flora. Here are some of the prominent wildlife holiday destinations that are easily accessible from Delhi.
1. Sultanpur Bird Sanctuary – 48.4 Kms from Delhi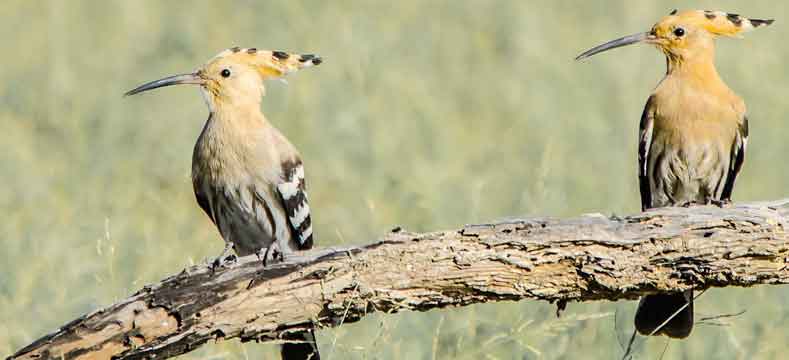 Located in Gurgaon district of Haryana, Sultanpur Bird Sanctuary serves as an abode of many species of birds migrating from various parts of the world. The Sultanpur Lake and the unadulterated ambience which is devoid of any noise and pollution have proved to a good breeding ground for the birds. Furthermore, the natural greenery of the place casts a magical spell upon the visitors and fills their heart with lots of joy and long-lasting memories.
Major Birds to Watch Out: Indian roller, White-throated kingfisher, Spotbill, Painted stork, Black-necked stork, White ibis, Black-headed ibis, Great egret, Cattle egret, Crested lark, Red-vented bulbul, Rose-ringed parakeet, Weaver bird, Magpie robin, Red-wattled lapwing, Little egret, Shikra, Eurasian collared dove.
Best Way to Explore Wildlife: The best way to see the birds at the bird sanctuary is by foot.
Where to Stay:
Vivanta By Taj
The Westin Gurgaon
The Bristol Hotel
Hotel Royal Inn
Bird Sanctuary Tourist Resort
Oyo Inn, Cyber Park
Gautam Retreat
Best Time to Visit: Winters (1st October to 31st March) and summers (1st April to 30th September)
2. Corbett National Park – 250.5 Kms from Delhi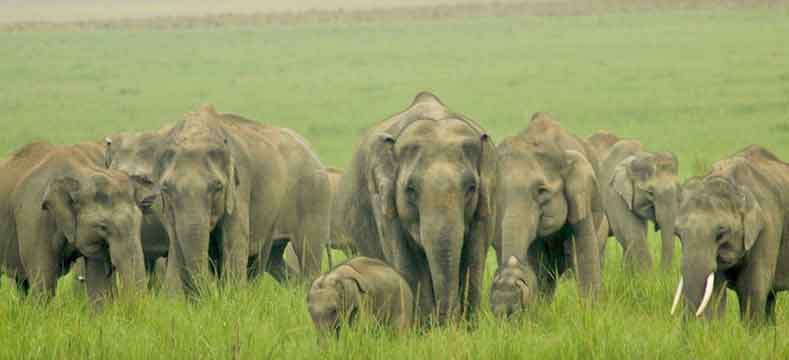 Corbett National Park, nestled in the awe-inspiring town of Ramnagar in the state of Uttarakhand is one of the most popular national parks among wildlife lovers. It is one of the oldest national parks of India and it was in the year 1973 that 'Project Tiger' was rolled out for the first from this park to prevent the decline of tiger population in India. The park is replete with plenty of magnificent flora and fauna that make the trip of wildlife enthusiasts truly memorable. For close encounter with different kinds of incredible animals and avifauna in their natural surroundings, it is important that the visitors keep their binoculars handy. To observe wildlife from close quarters and explore the huge area of the park, jeep and elephant safari is an excellent option. All in all, Jim Corbett National Park is nothing less than an empyrean for wildlife bugs.
Major Wildlife to Watch Out: The Asian Elephant, Hog Deer, Leopard, Elephant, Jackal, Sloth Bear Ghural, Asiatic Jackal, Gharial, Golden Mahseer Fish, King Cobra, Indian Rock Python and lots more.
Best Way to Explore Wildlife: There are four major zones in Corbett (Dhikala, Jhirna, Bijrani and Durga Devi) where different animal species are found. The visitors in the park can opt for an elephant or a jeep safari to explore the dense forests and click wonderful images of the animals.
Where to Stay:
Aahana The Corbett Wilderness
Ashoka's Tiger Trail Resort
Clarks Inn Corbett Resort and Spa
Corbett Heaven Resort
The Golden Tusk Resort
The River View Retreat
Corbett Tiger Den Resort
Camp Riverwild Resort
Best Time to Visit: The ideal time to visit Corbett is from November 15 to June 15. The park is closed between June 16 and November 14 because of rains.
3. Rajaji National Park – 220 Kms from Delhi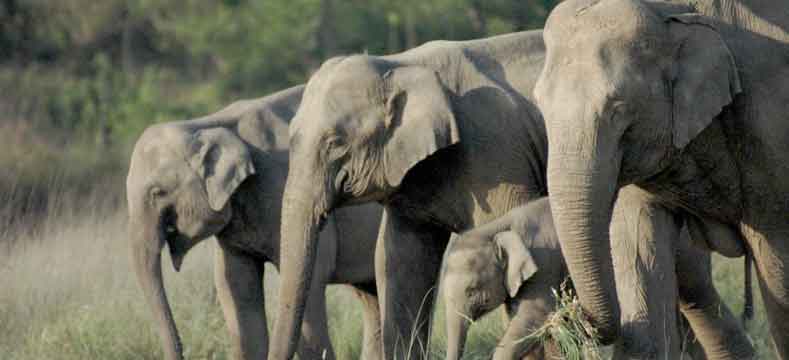 The Rajaji National Park has been named after C. Rajagopalachari or Rajaji, the first Indian Governor General of India. It was established in the year 1983 and is located along the foothills of Shiwalik ranges. The park is established by combining three wildlife sanctuaries – Rajaji, Motichur, and Chilla. The park has the highest density of elephant population in the whole Uttaranchal region. The rich biodiversity of the park attracts visitors from various corners of the globe and most importantly tenders them a fun-filled wildlife vacation.
Major Wildlife to Watch Out: Elephants, Tigers, Panthers, Spotted Dear, Wild Boar, Sambhar, Barking Deer, Pallas's Fish Eagle, Northern Goshawk, Black-necked Stork, Yellow-billed Blue Magpie, Ytler's Leaf Warbler, Green Avadavat and so on.
Best Way to Explore Wildlife: Jeep safari is carried out in various ranges of the park such as Mundal, Mithawali and Khara. It is important to note that the safari is carried out three hours each time in the morning and evening every day.
Where to Stay:
V Resorts Rajaji National Park
Forrest Resort
Naturoville Vedic Retreat
Neenrana's Deco House
Best Time to Visit: The best time to visit Rajaji National Park is from November to June.
4. Sariska National Park – 224.9 Kms from Delhi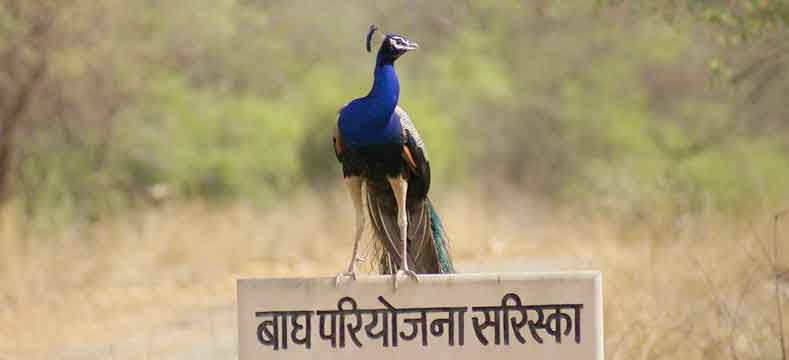 Sariska National Park is located in the Alwar district of Rajasthan. The park is enveloped by dry deciduous forests, beautiful hill cliffs and the stunning Aravalli Valleys. The magnificent flora of the park draws the attention of the wildlife junkies. The ruins of the age-old Garh and Rajor temples are the main attraction of the park. Going for a walk in the park and admiring the breathtaking beauty of the Mother Nature rejuvenates the mind, body and soul.
Major Wildlife to Watch Out: Tiger, Leopard, Jungle Cat, Hyena, Jackal, Sambar, Chital, Chausinga, Wild Boar, Peafowl, Bush Quail, Golden Backed Woodpecker, Crested Serpent Eagle.
Best Way to Explore Wildlife: A jeep safari in Sariska is one of the excellent means to explore the forest and its diverse wildlife. The visitors can enjoy a safari ride for around 3 hours. The majestic Kankarwadi Fort that is located inside the park can also be visited through safari by paying extra charges.
Where to Stay:
Gulmohar Sariska Resort
Shiva Oasis Resort
Cambay Sapphire
Alwar Bagh
Sariska Tiger Camp
Best Time to Visit: The right time to visit Sariska National Park is from January to mid July.
5. Keoladeo Ghana National Park – 227.6 Kms from Delhi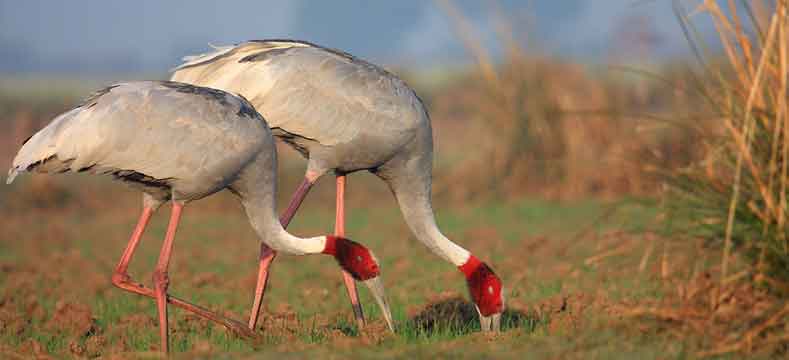 Located in Rajasthan, Keoladeo Ghana National Parkis also known as Bharatpur Bird Sanctuary and is one of the best bird parks in India. The diverse species of birds fascinate the visitors and compel them to come back again and again. Formulating a plan to visit the park, especially in the winter season will offer a wonderful opportunity to see several kinds of endangered birds.
Major Wildlife to Watch Out: Cranes, Pelicans, Geese, Ducks, Eagles, Hawks, Shanks, Stints, Wagtails, Warblers, Wheatears, Flycatchers, Buntings, Larks and Pipits, etc.
Best Way to Explore Wildlife: The park can be explored by foot or on a bicycle. A rickshaw can also be hired to see the various species of birds in their natural surroundings with great ease.
Where to Stay:
Laxmi Vilas Palace
Hotel The Raj Palace
Hotel Sonar Haveli
Swaraj Resorts Bharatpur
Birder's Inn
Evergreen Guest House
Best Time to Visit: November to March is a suitable time to visit the park and see the colorful birds.
6. Ranthambore National Park – 372.3 Kms from Delhi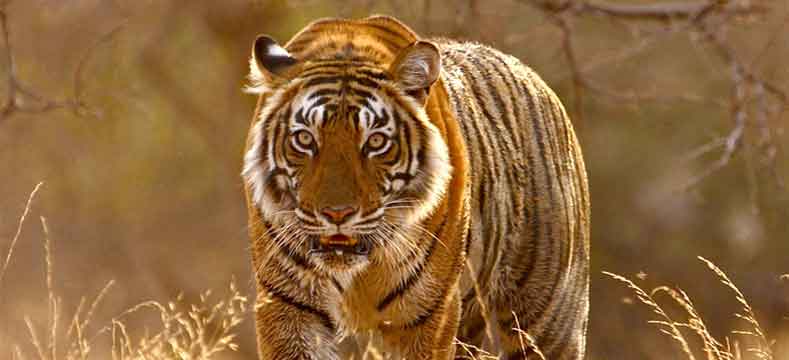 Ranthambore is one the famous national parks that captivates the attention of wildlife fanatics and nature lovers from every nooks and corners of the world. Located in the Sawai Madhopur district of Rajasthan, it is an abode of a healthy population of Royal Bengal tigers. Besides tigers, visitors can also explore the dense forests of Ranthambore through a canter and jeep safari. Ranthambore Fort, a UNESCO world heritage site, is nestled around 5 km inside the park. It is one of the prominent attractions that contain several beautiful sights, which are worth visiting such as temples, a step well, a lake and so on. Lord Ganesha Temple is a major attraction of the fort, visited by many devotees to seek his blessings. The park is certainly an enchanting place to make a wildlife trip and cherish unforgettable memories.
Major Wildlife to Watch Out: Tigers, Leopards, Chital, Hanuman Langurs, Chinkara, Boars, Indian Porcupines, Five striped Palm Squirrels, Indian Gerbilles and lots more.
Best Way to Explore Wildlife: There are altogether 10 different zones in the park and tourists can book a safari (canter and jeep) to the desired zones of their choice to see the exotic flora and fauna that are found there.
Where to Stay:
Vanya Vilas
Aman – I Khas
Dev Vilas
Taj Sawai Madhopur Lodge
Sher Bagh
Tiger Den Resort
Ranthambore Forest Resort
Jungle View Resort
Best Time to Visit: The best time to plan a trip to Ranthambore is from 1st October to 30th June. The park remains closed for the visitors from July to September because of the rainy season.
Visiting all these national parks and sanctuaries is not a very big hassle at all. You can drive your own car, rent a cab or go by bus. A tour to these captivating locations will definitely provide much needed ointment to your dull souls.